1987 – McLaren Housing Society Incorporated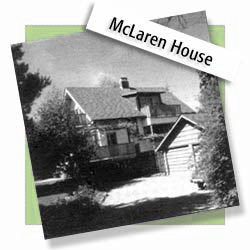 Founded in 1987, the Society developed out of the original Housing Committee of AIDS Vancouver and is named after Ted McLaren, who was one of Vancouver's leading advocates for affordable housing for persons with AIDS. McLaren Housing's first project was a five-bedroom house offering a communal living situation in a supportive environment. This home was known as McLaren House, and was the first project of its kind in Canada. McLaren House was closed in September 1993 and those housing units were replaced by portable rental subsidies in order to better meet the needs of the clients.
1991 – Helmcken House Opens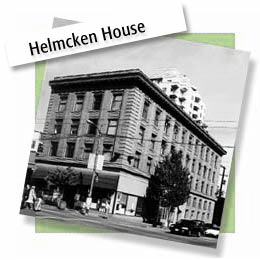 The Society's second major housing project was Helmcken House, a renovated heritage building located in downtown Vancouver South. Opened in July 1991 and offering a total of 32 one bedroom and bachelor apartment units, Helmcken House is located within easy access to St. Paul's Hospital, and the comprehensive medical support services of The John Ruedy Immunodeficiency Clinic (IDC).
1994 – 1998
22 portable subsidies created with funding from BC Housing and McLaren Housing Society fundraising initiatives.
2000

Affordable Housing Society: Seymour Place opens with 20 new government subsidized units allocated to McLaren.
2001
10 more BC Housing funded portable subsidies created.
2002

Mole Hill Community Housing: 10 government subsidized units allocated to McLaren Housing Society in the Mole Hill redevelopment project.
2002 – 2008
10 additional portable subsidies made possible through McLaren Housing Society fundraising efforts.
2008

Funding for the Howe Street Project is approved.
2010
25 subsidies created for the LEAP (Living Empowered & Positive) Program are created from donations from The MAC AIDS Fund, Scotiabank, Shooting Stars and the Fillmore Foundation.
2011

STOP AIDS (Vancouver Coastal Health) provides 5 portable subsidies for families living in Vancouver.
2012
The Sponsored Subsidy Program (SSP) was created.
2013

The Howe Street development was completed creating 110 units of subsidized supported housing. The Enhanced Supportables Program created from BC Housing to provide 25 portable subsidies and a full-time support worker.
2014
Housing Success Program created in partnership with Vancouver Coastal Health providing a social worker available to the IDC (Immunodeficiency Clinic) 2 days per week.
2017

McLaren Housing Society of British Columbia celebrates 30 years of service in providing housing and services to people living with HIV/AIDS!
2017

Nicholson Towers: 20 government subsidized units allocated to MHS in partnership with the Bloom Group.
2018
Successful in obtaining funding from the Government of Canada's New Horizons Program for an "Out & About" program